Photovoltaic Trackers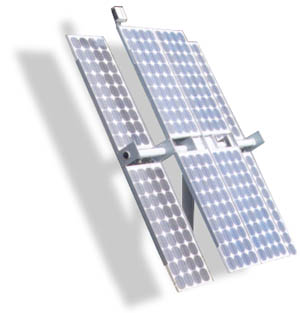 A rack for solar modules that increases
energy output by electronically following the sun
Innovative, Reliable, Cost-Effective
DESCRIPTION
TRACSTAR is a solar tracker that rotates photovoltaic modules so that they take full advantage of the rays of the sun.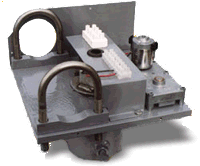 TRACSTAR is easy to assemble. It consists of three elements:
A rack to hole the photovoltaic modules
A central hub to hold and move the rack
An electronic controller
Compared to stationary modules tracker-mounted modules furnish more power and produce a more constant output throughout the day.
TRACSTAR increases the economic worth of valuable photovoltaic panels by increasing the amount of time the solar panels are oriented toward the sun.
easy installation
solid state encapsulated electronics
flexibility of panel configuration
automatic night return
12 or 24 bolt operation
a wind load reducing rack system
tracking by timer wien cloudy
a sunlight activated switch
a built-in voltage regulator
a solidly built slewing platform hub of the type used on boom lifts and cranes
TRACSTAR solar trackers can bee seen in operation at the Real Goods Solar Living Center in Hopland, California.