Small Power Systems
74550 Dobie Lane
Covelo, CA 95428
Call: 800-972-7179
FAX: 707-983-6525
Email: SPS@pacific.net


Photovoltaic Trackers
Tracstar Solar Trackers are racks for photovoltaic panels that follow the sun to increase the daily power produced. They are azimuth trackers with provisions for adding an elevation drive for dual-axis tracking. Our testing has shown azimuth tracking to produce over 96% of full tracking output with no adjustments, so we only recommend dual-axis tracking for large systems, wind protection, or optical requirements.
Tracstar trackers are made up of three components; the electronic controller, the hub, and the rack to hold the PV panels. The various hub sizes are defined by the maximum square footage of panel they can carry.
We can build any size tracker. Smaller sizes are off the shelf.
We have two rack systems. The usual is shipped UPS complete from the factory for your application and just needs to be bolted together. The second system saves shipping costs because you purchase pipe for it locally. Since the panel brackets are modular, the system can be configured in any way and changed at any time. The overall cost is greater, but there is greater flexibility.
We offset adjacent panels to reduce wind loading. The racks can be assembled with all panels on the same plane, but the hub capacity is reduced.
The azimuth drive motor is protected by a shear pin similar to lawn mowers or outboard motor propellers. During extreme winds this pin will break and protect the motor. The tracker will rotate until it is perpendicular to the wind so the installation should provide for full 360 degree rotation. Replacement (spare included) is done with simple tools. Models without a shear pin and/or with dual motors are available for critical installations in unattended locations.
Standard Features
Easy installation
Solid state encapsulated controller
Automatic night return
12 or 24 volt operation
A wind load reducing rack system
Tracking by timer when cloudy
A solidly built slewing platform hub of the type used on boom lifts and cranes
Hollow center for clean wiring through the support pipe
A built-in voltage regulator that stops tracking to limit output (not prewired)
A sunlight activated switch (not prewired)
A park switch to return the tracker to facing east as at night (not prewired)
A switch on dual-axis trackers to move the rack to a horizontal position during high winds
UPS shipment
No adjustments necessary after installation
Redundant limit switches
Options
Dual-axis tracking
High accuracy controller
Remote controller with manual switches, LEDs, and other electronics
Specifications
Type of controller: shadow band with timer backup
Voltage: 12 or 24 VDC, battery required
Idle current: 3 ma single and 6 ma dual-axis
Power usage: negligible, less than 1/2 amp/hr per day in all cases
Accuracy: very accurate, consult SPS for complete information
Voltage regulator cut-in: factory set at 14 volts, adjustable
Voltage regulator cut-out differential: 1.2 volts
Sunlight switch turn on: about 20 mw/sq. cm
Design life: twenty years
Temperature range: -25oC to 70oC
Azimuth rotation : 330o
Azimuth drive: DC gearmotor with spur gear drive, zero lash in moderate winds
Vertical rotation (dual-axis): 90o
Vertical drive: Linear actuator
Construction material: all steel, other materials available
Vertical clearance: less than 1/2 array height from the support pole top
The controller is fully protected.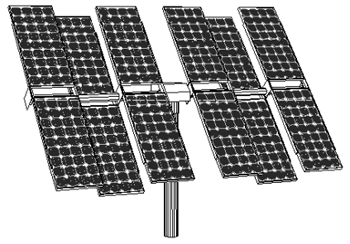 Price List
We would prefer to provide a price specifically for your application using information from the following simple questionaire.
If you will send us this information, we will quote on a tracker and possibly an alternative.
Number of Panels _____________
Number of Panels to be added later Definite ________ Possible _______
Panel Manufacturer and Model No. _____________________________
Highest wind speed expected at site, if known _________________
Location _____________________________________________________
Any additional information
The following can be used to figure an approximate price.
We recommend that you step up to the next larger tracker if your panel area exceeds 75% of the rated area.
That results in a conservative design and leaves room to add panels in the future.


Product List
HUBS (includes controller and motor) List Price
H0251 up to 50 sq. ft. $ 650.00
H0501 up to 100 sq. ft. 990.00
H1001 up to 200 sq. ft. 1290.00
Larger trackers are built to order
RACKS (two rack systems, see literature)
Per Panel ( approximate as price varies with panel type) $23.00
Note: Larger hubs are available with provisions for future upgrade to dual-axis and/or dual-motor
(to increase capacity) for $20 and $40 respectively.


RACK OPTIONS (add to above prices)
Dual-Axis tracking $450.00
Compensated azimuth controller 50.00
Compensated dual-axis controller 100.00
Controllers with manual switches and other options available
ACCESSORIES
Battery with regulator $45.00
Battery temperature compensation sensor 15.00
Wind Switch 40.00
Large hollow center for pipes (add to hub price) 100.00
High voltage power supply 25.00
Pedestal support pole material, labor, and shipping
STATIONARY HUBS (refundable with purchase of tracker hub)
H0251S up to 50 sq. ft. $125.00
H0501S up to 100 sq. ft. 150.00
H1001S up to 200 sq. ft. 200.00