Small Power Systems
74550 Dobie Lane
Covelo, CA 95428
Call: 800-972-7179
FAX: 707-983-6525
Email: SPS@pacific.net

Daylighting Trackers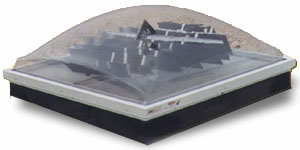 Small Power Systems has developed two daylighting trackers and will custom design others upon request.
Small Power Systems developed a very inexpensive self-powered azimuth tracker that rotated an approximately 4' X 4' array of mirrors that were under a skylight to reflect sunlight into commercial buildings. (This gave rise to the self-powered trackers described elsewhere.) In this tracker, an arrangement of solar cells powers a small gear motor so that no matter where the sun is, the array of mirrors will move to point at the sun. The system is reasonably accurate (accuracy is a function of cost and space available) and, since there are no electronics or batteries or wiring, is very simple to install and maintain.
Small Power Systems has also developed a dual-axis tracker for use with fiber optic daylighting systems using its electronic controller. This is a small and accurate tracker that uses a trunion mount so that the fiber optic cables have adequate clearance. It is very easy to install as the unit is simply put in place and plugged in. It works on 12 or 24 VDC and can easily be powered by a small PV panel. It is quite inexpensive compared to other similar products.
Please contact Tracstar for additional information.