Small Power Systems
74550 Dobie Lane
Covelo, CA 95428
Call: 800-972-7179
FAX: 707-983-6525
Email: SPS@pacific.net

Self-Powered Trackers
Tracstar developed a self-powered tracker for use on a commercial building daylighting systems that we have adapted to the broader market. A self-powered tracker in this case is a tracker that produces its own power. The Tracstar design uses an arrangement of small solar cells to directly power a motor to move the tracker into alignment with the sun. When the tracker is correctly aligned no power is produced and the tracker does not move until the sun moves and shines on the cells to make power.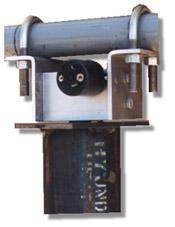 We currently make two sizes or hubs. The smaller is intended for solar ovens, one or two panels, and the like. It has a aluminum gear box but plastic gears. The gears are protected by a clutch to prevent overloading and permit manual return. The larger hub can take up to 25 square feet of panel and has metal gears. We make two controllers (the arrangement of solar cells). One only goes forward so it has to be manually reset to start over the next day. The other will automatically return in the morning. It is also more accurate and will go backwards if it accidentally gets too far advanced. Both these controllers will lose the sun if they are reset to East in the early morning and then there is total cloudiness until mid to late afternoon. This rarely happens. We make a self-powered controller that will not lose the sun but it continues rotating in the same direction instead of reversing when the sun rises in the morning so it will wrap any wires around the support pole.
The smaller hub does not have a rack, but has brackets to attach a plywood platform or rack of some sort. The larger has similar brackets that are constructed to take U-bolts of the type we use in our PV trackers. A universal rack is included that will accomodate most panels. The width times the number of panels should not be more than 6 feet. A hacksaw and drill are required to adapt the rack to different panels. We can pre-drill the rack for your panels at slightly greater cost. The smaller hub is available for mounting on a flat surface with screws or bolts or is available for mounting on a 2" pipe pole. The larger tracker is made to mount on top of a 3" pipe pole.
We expect prices to be in the $125-175 range for the smaller and $300-400 for the larger which is quite inexpensive. Contact us early and you might get one on the cheap side as we finalize the design.

Tentative Prices
| | |
| --- | --- |
| Small Hub (10 sq. ft.) | $150.00 |
| Medium Hub (25 sq. ft.) with universal rack | 350.00 |
| Large Hub (50 sq. ft.) no rack | 450.00 |
| Simple Controller | 25.00 |
| Automatic return Controller | 45.00 |